At Nick's Dent Care, we believe that quality and service go hand in hand. We understand that your vehicle is not just a means of transportation, but an extension of your identity. That's why we are committed to providing our clients with top-notch service, ensuring that they can get back on the road in a car they can be proud of.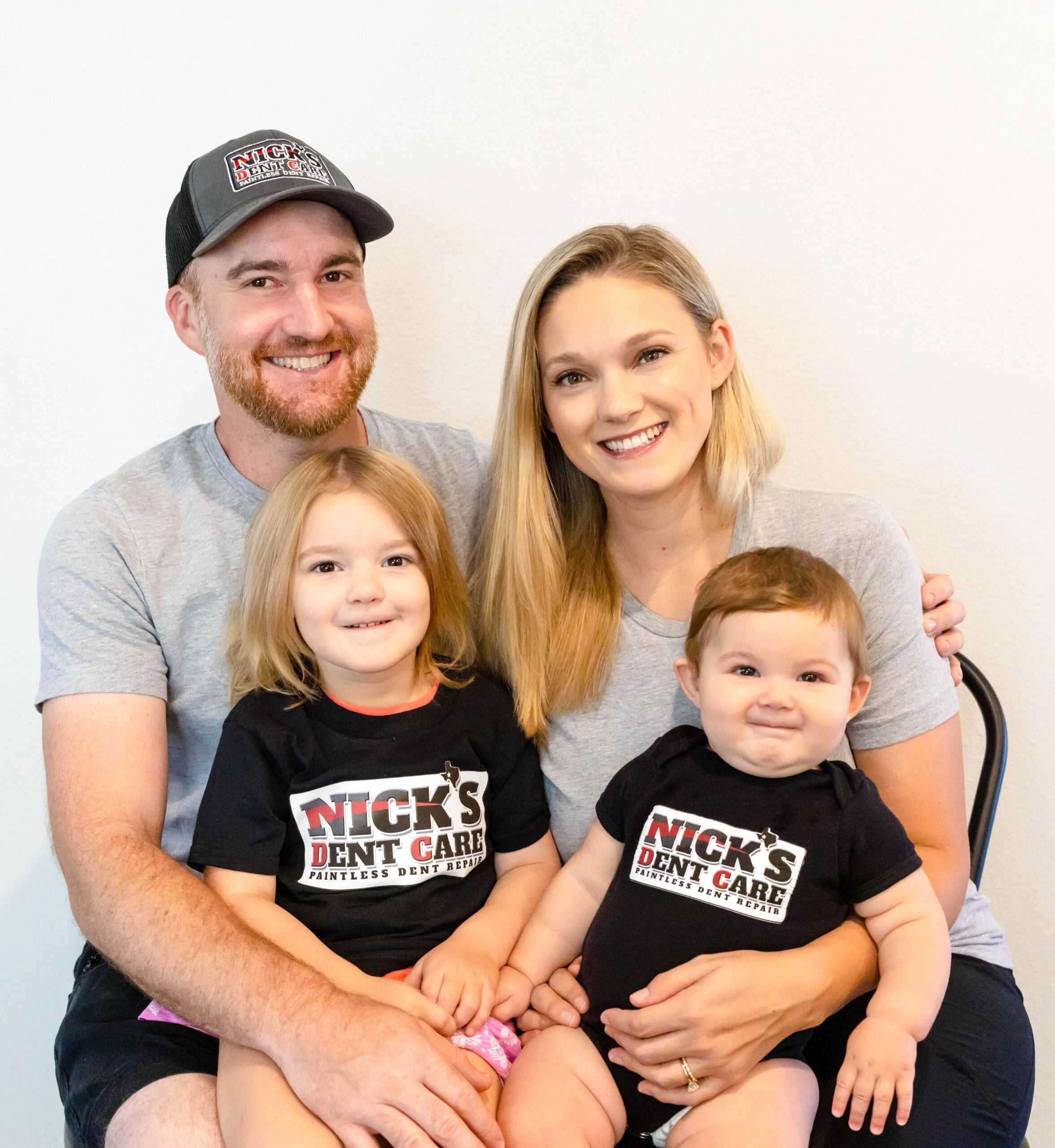 Family Owned and Operated
Nick's Dent Care is more than just a business – it's a family affair. Founded in 2015 by Nick and Allison Jones, our company has been providing quality paintless dent repair services to the Dallas/Fort Worth area ever since. With Nick's years of experience and dedication to perfecting his craft, he has become the go-to choice for anyone in the area looking to get rid of unsightly dents on their vehicle. What started as a dream shared by Nick and Allison has now become a thriving family-owned and operated business that includes their two young children. At Nick's Dent Care, we treat our customers like family, and we're proud to be a part of the community we serve.
We specialize in Paintless Dent Repair (PDR) which is a unique technique to restore your vehicle's body back to its original form without damaging the factory finish.
 Our trained specialists have the necessary equipment, including metal rods, shims, body pickers, lighting, and mirrors, to reach behind the unsightly dents and gently mold the metal back to its original form. 
Unlike traditional auto body repair methods, which rely on fillers, sanding, and paint, PDR enables us to preserve your car's factory finish and prevent any potential adverse effects on resale value. Additionally, we offer superior hail damage repair services, backed by a documented, limited lifetime warranty to ensure your complete satisfaction. With over seven years of expertise in the field, you can trust Nick's Dent Care to restore your vehicle to its pre-damaged condition quickly and efficiently.
Your Paintless Dent Repair Specialist In DFW
We take great pride in providing top-notch auto repair services to drivers in the Dallas/Fort Worth area. Our team of skilled technicians are dedicated to restoring your vehicle's factory finish, without the use of fillers, sanding, or paint. With over seven years of experience in the industry, we have built a reputation as a trusted and reliable source for paintless dent repair and hail damage restoration. Say goodbye to unsightly dings and dents – schedule an appointment with Nick's Dent Care today and discover the difference our expertise can make for your vehicle. Give us a call today or fill out our online form to get started!